Gartner Lessons
Lessons Learned From the Most Common Mistakes Made by Cloud Infrastructure Adopters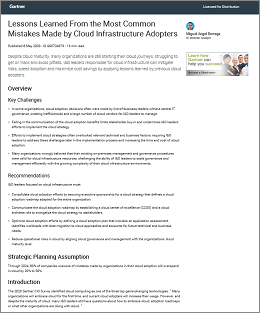 Despite cloud maturity, many organizations are still starting their cloud journeys, struggling to get on track and avoid pitfalls. I&O leaders responsible for cloud infrastructure can mitigate risks, speed adoption and maximize cost savings by applying lessons learned by previous cloud adopters.
Download the Gartner Paper
Key Challenges
In some organizations, cloud adoption decisions often were made by line-of-business leaders without central IT governance, creating inefficiencies and a large number of cloud vendors for I&O leaders to manage.
Failing in the communication of the cloud adoption benefits limits stakeholder buy-in and undermines I&O leaders' efforts to implement the cloud strategy.
Efforts to implement cloud strategies often overlooked relevant technical and business factors, requiring I&O leaders to address these challenges later in the implementation process and increasing the time and cost of cloud adoption.
Many organizations wrongly believed that their existing on-premise management and governance procedures were valid for cloud infrastructure resources, challenging the ability of I&O leaders to scale governance and manage efficiently with the growing complexity of their cloud infrastructure environments.
Recommendations
I&O Leaders focused on cloud infrastructure must:
Consolidate cloud adoption efforts by securing executive sponsorship for a cloud strategy that defines a cloud adoption roadmap adapted for the entire organization.
Communicate the cloud adoption roadmap by establishing a cloud center of excellence (CCOE) and a cloud architect role to evangelize the cloud strategy to stakeholders.
Optimize cloud adoption efforts by defining a cloud adoption plan that includes an application assessment, identifies workloads with best migration to cloud approaches and accounts for future technical and business needs.
Reduce operational risks in cloud by aligning cloud governance and management with the organizations' cloud maturity level.
To read the rest of the Gartner report complete the form on this page. 

Gartner Lessons Learned From the Most Common Mistakes Made By Cloud Infrastructure Adopters by Analysts Miguel Angel Borrega Published 8 May 2020.
Gartner is a registered trademark and service mark of Gartner, Inc. and/or its affiliates in the U.S. and internationally, and is used herein with permission. All rights reserved.