Geneos 5.14 release: Connectivity to ITRS Obcerv platform and much more
While every release of Geneos is exciting and contains many new features, we are particularly excited to announce the release of Geneos 5.14.0, now available to download. This release is aligned with the launch of ITRS Obcerv, an important milestone as we continue to modernise our monitoring capabilities. Here are some of the highlights.
Geneos and Obcerv connectivity
ITRS Obcerv is the platform to take performance monitoring to the next level. With scalable architecture and data storage, it is a platform to take control of the complex IT infrastructure and application monitoring. Geneos real-time monitoring together with ITRS Obcerv allows you to store, collate, contextualise and visualise your data, giving you end to end visibility for operational resilience.
•    Gateways can publish all your metrics and events to Obcerv for storage and analysis
o    Efficient data compression and scalable storage delivers a reliable platform for operational data
o    Data filtering at Gateway lets you control what you publish to Obcerv, giving you efficient data storage while minimising cost
o    Aggregate and contextualise Geneos events for meaningful insight into ever increasing event noise
o    Visualise Geneos data at enterprise scale using Obcerv dashboards or easily connect to Grafana if that is your preferred dashboarding tool
o    Query Geneos data through open APIs to integrate with other systems

•    Netprobes can publish log data to Obcerv so you have metrics and logs together in single platform
o    With simple configuration you can publish all your log monitoring (FKM plugin) data to Obcerv
o    Build workflow that takes you from real time log monitoring view in Geneos Active Console to Log Investigation in Obcerv
o    Netprobe lets you filter the log data published to Obcerv so you have control over downstream processing and storage requirements
 
•    Active Console users can build history charts by querying the data stored in Obcerv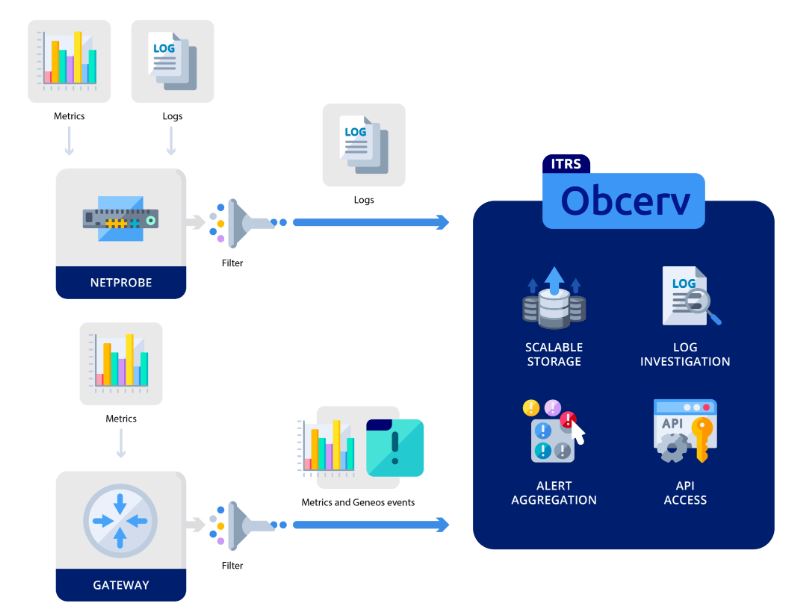 Easy access to Geneos data
For many of our customers, Geneos is a critical component of the operation landscape. So having easy access to Geneos data is important to build well integrated workflows. We are introducing two new ways to access the real time data in Geneos Gateways. This is in addition to the already supported method of publishing to Kafka and the new ITRS Obcerv platform.
•    Gateways can publish data to a HTTP / HTTPS endpoint
o    This is a generic light weight method to publish (POST) Geneos metrics and events to other systems
o    Filtering allows you to control what you publish in order to minimise downstream data requirements
o    The data is published in well structured JSON format for downstream processing
•    Get snapshot of a dataview
o    Gateway REST service now supports a new end point to request a snapshot of a dataview
o    This is ideal for reporting and visualisation tools to request snapshot view of the data in Geneos
o    For example, start of day, end of day or service level summary views can easily be integrated into other tools