FIX protocol analysis through FIX Analyser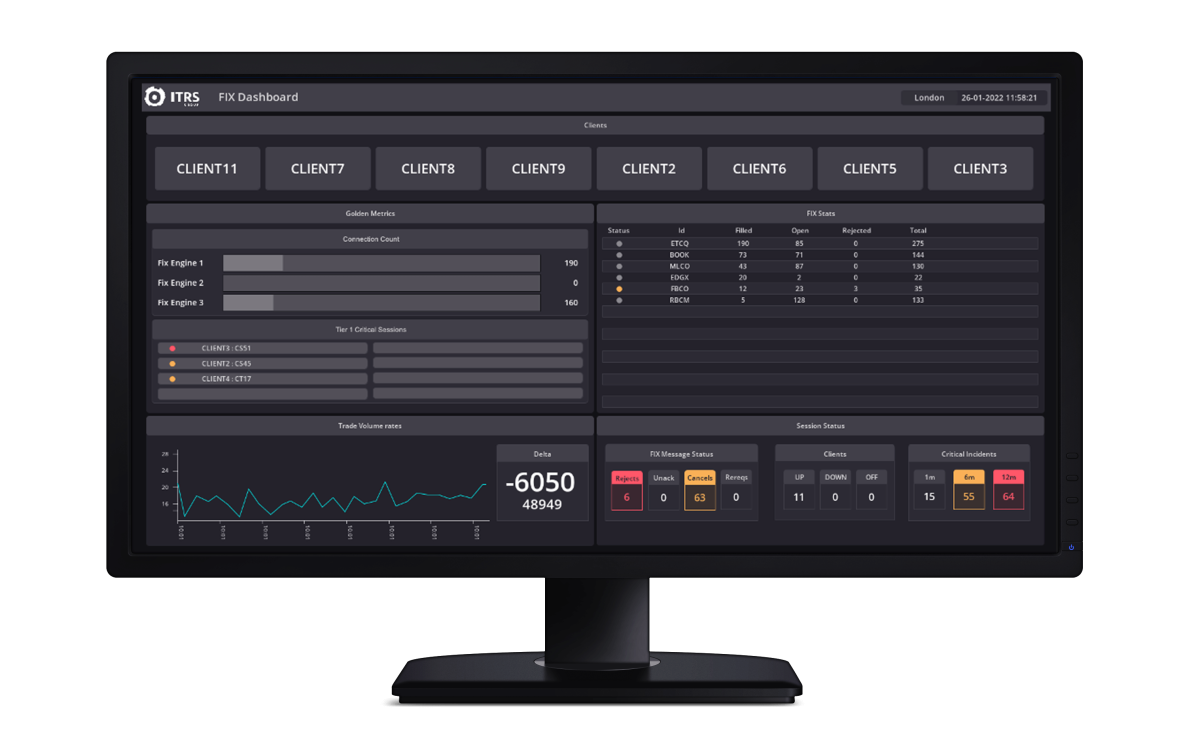 FIX Analyser: your trading communications monitoring tool
The Financial Information eXchange (FIX®) Protocol is an essential tool in facilitating electronic trading, having become pivotal in the global financial markets. It is used extensively by sell-side and buy-side firms, trading platforms and even regulators to communicate trade information. By providing you with a best-in-class FIX analysis tool, Geneos gives you the confidence you need in your trading infrastructure.
What Fix Analyser delivers
Business data views
Several different types of views can be configured within FIX Analyser:
Real-time views of FIX message flows to counterparties such as exchanges, FIX engines or clients.
Order status metrics and turnaround times per client, exchange, or instrument.
Session's view showing current status and metrics for FIX conversations to a FIX engine.
Message detector views showing all messages matching user specified criteria, for error flagging or increased visibility.
Customisation
You can configure your own completely customised views, to control row grouping, column definitions and message filtering.
Performance
The latest version of the plug-in contains several performance changes, including:
All processing and analysis of FIX log files is moved away from mission-critical FIX Engine servers, via the use of the lightweight Geneos File Agent.
Improved performance and message throughput.
Reduced memory utilisation and a more stable memory footprint.
The FIX Analyser architecture
FIX logs produced by application processes are hosted on an application server. These log files are read by a lightweight Geneos File Agent process and forwarded to FIX Analyser which is hosted on a monitoring server. This deployment ensures that parsing and analysis of the FIX messages do not impact on the performance of any applications on the application server.
FIX Analyser uses an in-process database to store order information for the FIX messages it is processing. The data contained in this database is stored as a file on the local disk and is used for tracking order states and latency data.
Message data can optionally be stored by FIX Analyser to a MySQL database. This data is used to augment HTML-based order reports to display drill-down message level data for each order and enable the message querying feature. Where possible we recommend installing this database for enhanced plug-in functionality.
See ITRS in action
We understand that navigating IT environments can be complex, and every organization faces unique challenges. That's why we offer customized demos tailored to your specific needs. Book your demo today to experience the power of intelligent, hybrid IT monitoring.