Sneak preview of the new UI of OP5 Monitor
As many of you know, we are working on a completely new UI for OP5 Monitor. We are happy to be at a point where we can share a sneak preview of what is to come!
First, why are we building a new UI?
The main reason is the need to easily add new functionality. The existing UI is tightly connected to the backend, making it difficult to update and to add functionality. With the new UI, we have a more flexible structure that allows for faster development. 
Another reason for the new UI is to update the look and feel to meet new customer expectations. We've had feedback that the current UI has an outdated look and isn't user-friendly, particularly for new users. We have addressed this in the new UI, following best practices for user interaction and using Material-UI as the base for our building blocks.
The brand new UI
The new UI is built upon a modular architecture, which means it can be more easily updated. Adding functionality can be done at a faster pace than before, allowing us to adapt to customer needs quickly. The configuration will be shared between the existing UI and the new, so it will be possible to use the new and old UI side by side, with our end goal being to eventually replace the outgoing UI completely. The first version of the updated UI is designed to enhance the data and information visualization. Configuration and actions can be done from the existing UI but will eventually be added to the new UI too.
Outlined below are a number of general improvements from the present UI:
The menu will be flipped to a collapsible vertical menu, making more space for the content. 
It will offer both a light and dark theme to meet the request for a darker UI.
The new UI is responsive, adapting to different screen sizes – from desktop to mobile.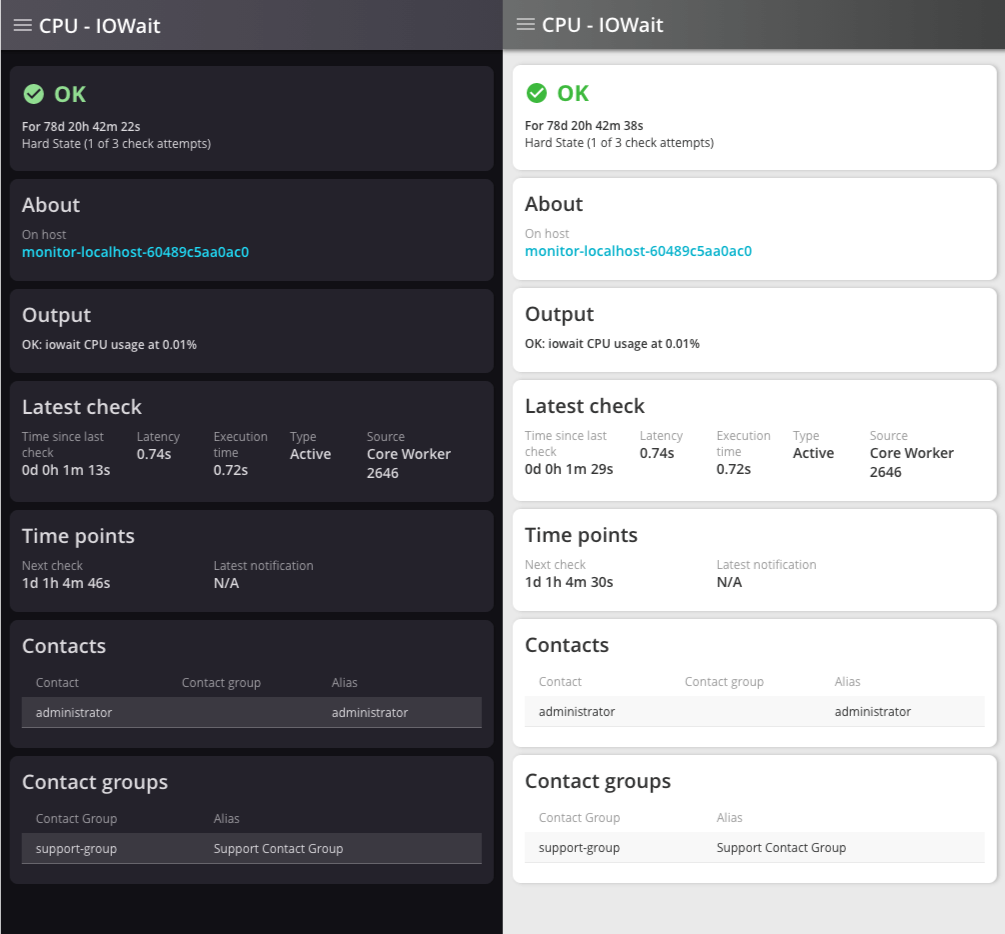 Host and service tables
Below is the current state of the host and service tables. We are also working on adding a quick and easy-to-use filter for the tables. We wanted to maintain elements of the table from the existing UI that we received positive feedback on, for instance the service status overview in hosts list.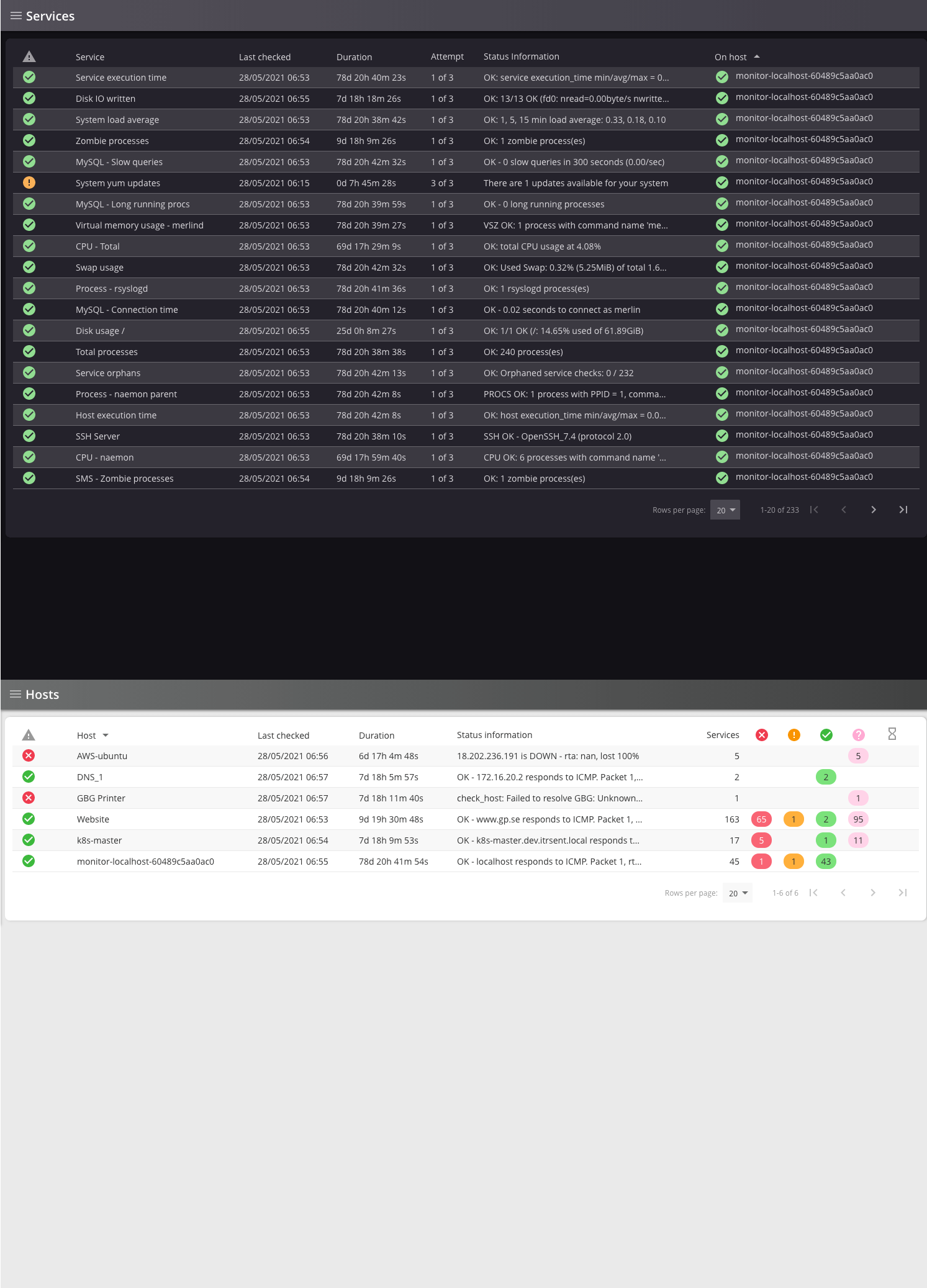 Detailed views
Detailed views, or ext info pages as some of you know it by, has a new layout. We have made it more compact for better use of the screen, allowing users to access a quick and easy overview and making it easier to find valuable information.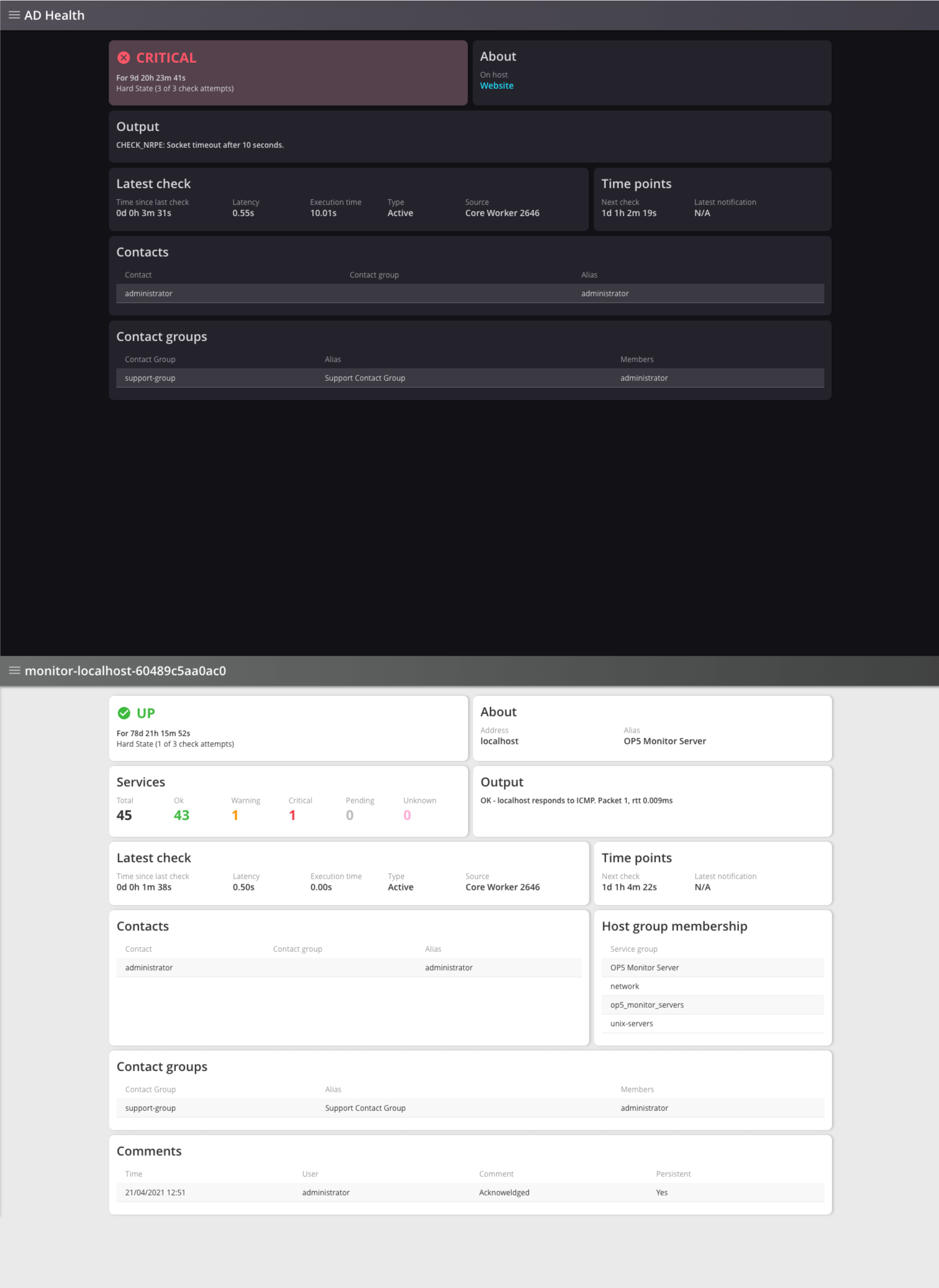 Dashboards
The new dashboards have a flexible layout, allowing you to resize and reorder widgets easily to create dashboards that fit your needs and preferences. You will also be able to duplicate a widget, instead of having to create it from scratch every time. Additionally, dashboards can be grouped in folders, making it easier to organize and find your dashboards. Dashboards are still work in progress, but we are working on table widgets (also called listviews), KPI widgets (big number and status summary widgets), and bar charts for Naemon check status data as a first step.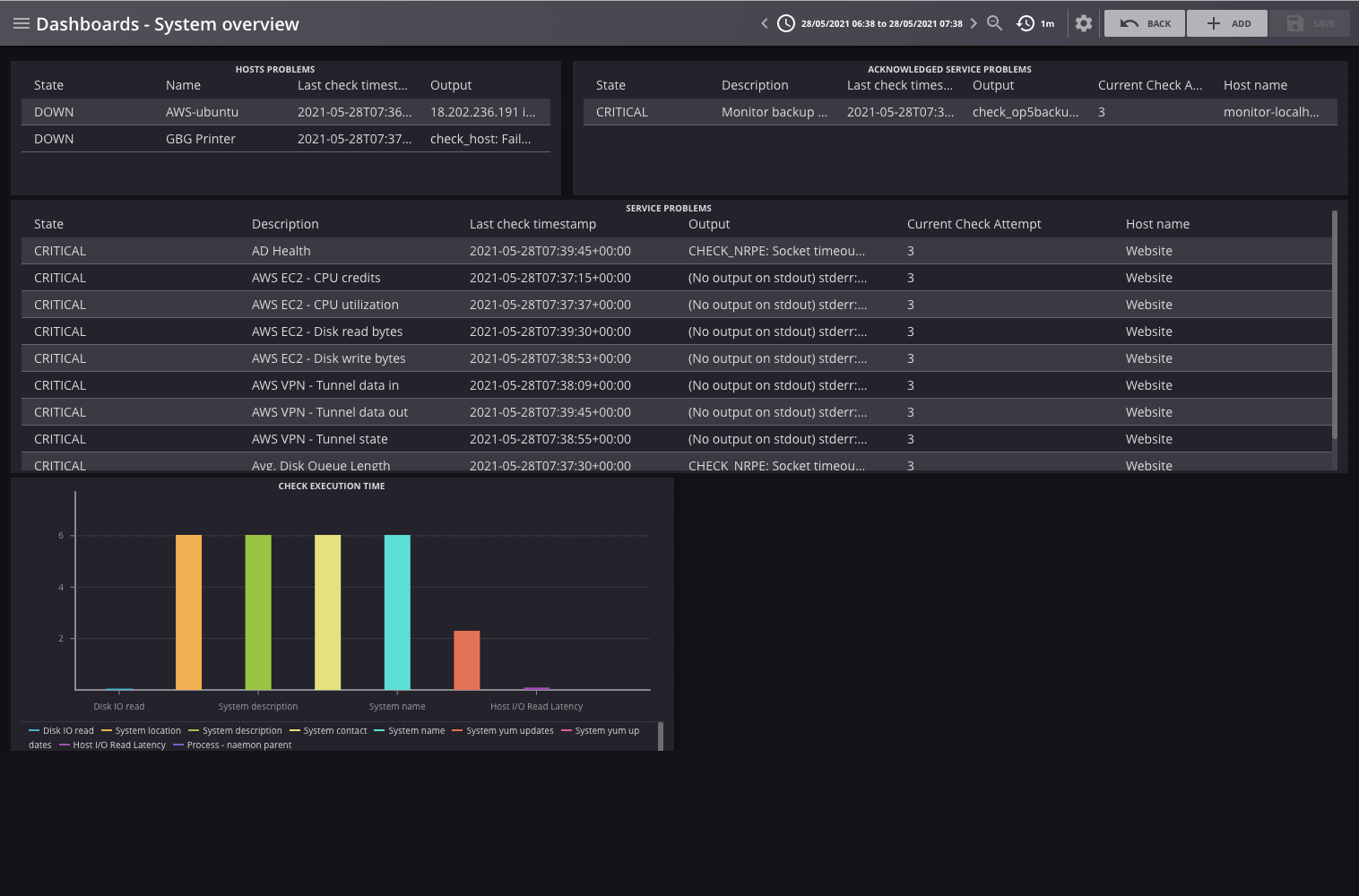 Next up: Monitoring of Dynamic environments
Our next focus is going to be on dynamic environments, with several users requesting this. Our current plan is to allow you to visualize the metrics in several ways, to help you get an understanding of any potential problems. With this new feature, you will be able to monitor your dynamic environment alongside traditional monitoring within the same UI. All existing functionality will be kept in the old UI, and you will be able to use it side by side if you prefer. We hope you look forward to this as much as we do!
Do you want to contribute?
We are building the UI bit by bit, and we will continue to add new functionality. We are looking for users to try the new UI when it's ready to be reviewed and give us feedback. Do you want to make an impact and be part of the process? Let us know! We value your input.
For further information contact your Account Manager.