ITRS Log Analytics
The Ultimate AI-Based Log Management Solution for IT Operations and DevOps Teams
 
Unlock the hidden power of your data and shift to proactive monitoring of your systems.
ITRS Log Analytics Intelligence add-on is built upon the best ML libraries that can identify trends and predict behaviour of the systems in your infrastructure. Our neural networks help detect real time anomalies such as non-standard network traffic that might suggest hacking attempts.
ITRS Log Analytics gives you a fully transparent overview of your logs, their analysis and reporting – at any scale. It provides an immediate response to the needs of efficient processing and analysis of data. The flexible architecture ensures seamless scaling, load balancing, high availability and geographical redundancy.

Cost Effective.
Affordable implementation even with very large and growing amounts of data.​

Graceful licensing model based on the number of data nodes, as opposed to data volumes.​

Scalable.
Out-of-box horizontal scaling, load balancing, high availability and geographical redundancy.​

Immediate response to the need of efficient processing and analyzing large amounts of data.​

Transparent.
Keep an eye on whoever logs into the application, runs queries, exports the data or changes user permissions.​

Collect data on any IT logs, network traffic based on netflow and provide full transparency over system and user behaviour.​

Intelligent.
Growing library of advanced ML algorithms to forecast trends and system behavior.​

Neural networks to detect real time anomalies.​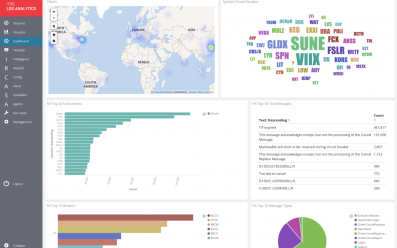 Why Integrate ITRS Log Analytics?
ITRS Log Analytics provides a complete solution for Auto-Discovery, Monitor, Collection of Events/Logs, Event Management, Root-Cause Analysis, Security and Reporting. This provides an overview of the overall application and system performance. ITRS Log Analytics takes these features and provides integration with third party tools as well as native support of ITRS OP5 Monitor and Geneos.