Wearing the customers' shoes
Improvements we've made based on your feedback 
At ITRS Group we are always striving to wear our customer's shoes. So much so that it's one of our 6 values as a business. With that said, our survey process is central to company direction. Below I'm going to talk a little bit about some of the changes we've made as a result of the survey, over the last few years, and provide a reminder that we have a new survey coming up.  
Better management at scale  
Geneos moved to version 5 which provides numerous new ways for better management at scale, including centralised configuration and config APIs, new monitoring tools for orchestrated environments, and new web UIs for monitoring and administration for Gateway Hub as well as enhanced dashboards. 
Capacity Planner now has automated baseline recommendations as well as cloud migration recommendations and right-sizing. 
OP5 Monitor has also added additional capability around our Slim Poller which will work in orchestrated environments and additional checks for AWS. 
More details can be found in the links in our next section. 
Better Documentation 
Although we have made great strides in our documentation site over the last few years (from NPS of -9 in April 2017 to +17 last year) we are continuing to invest in our documentation. We have created, standardised and updated our release notes, compatibility matrix and What's New pages for each product and we have completely re-written both the Capacity Planner and the OP5 Monitor documentation to both provide new and existing users a mix of getting started and technical reference material.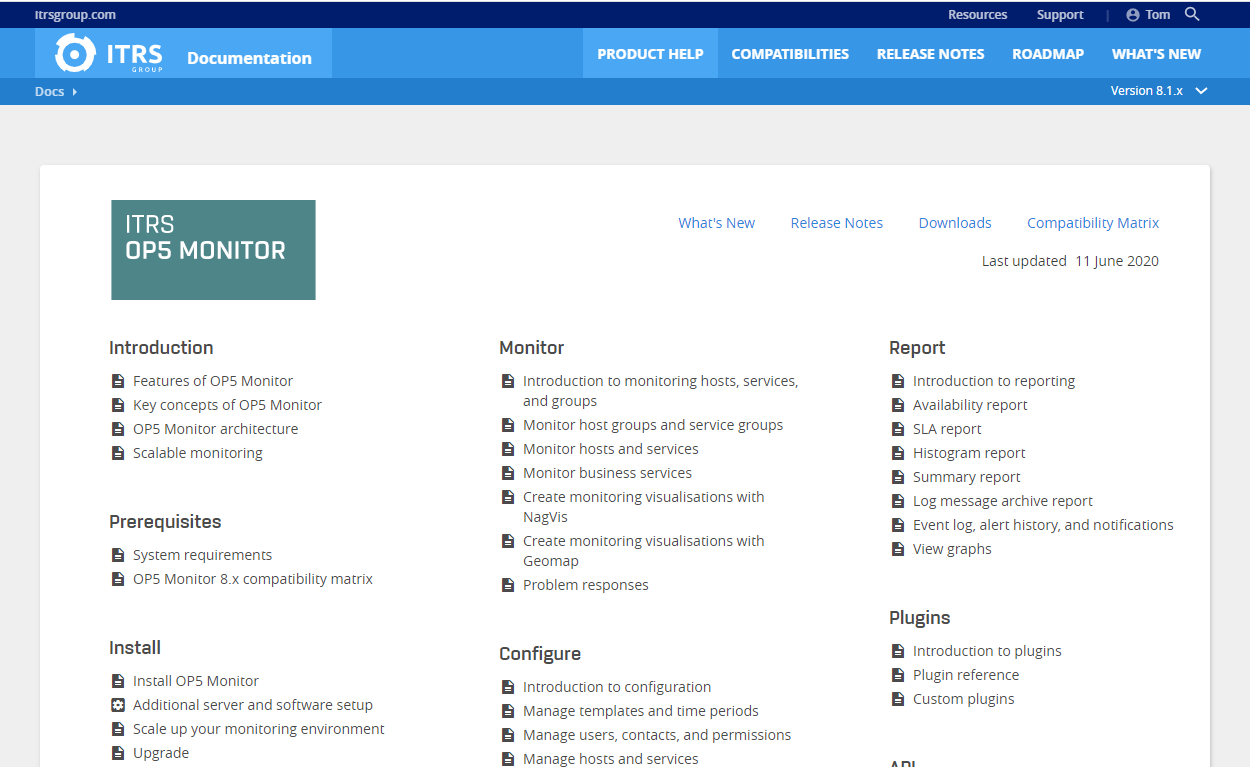 Customer Welcome Program 
We provide tools which work in the always-on enterprise and as such our tools need to be able to handle each enterprises' uniqueness. Highly configurable software is a necessity when it comes to providing the necessary level of customisability. We do recognise the learning curve on getting started on software, which may eventually sit on thousands of servers, can be daunting. We have a new customer welcome program which will help you get started using our products, documentation and accessing support portal. 
Communicate, communicate, communicate! 
ITRS Group strives to produce and deliver great products and services to our customers, one of the ways we do this is communicating with our customers. In these difficult times of a global pandemic our usual high-touch model of talking with customers face to face regularly through trade shows and meetups, ITRS Techfests, or our Client Service site has been curtailed, but we are still very interested in listening and learning from you.   
We'd love to hear more 
Our 2020 survey is relatively lightweight asking four simple scoring questions which give us some broad strokes on how our customers are feeling, and two questions providing in-depth insight on what you would like us to improve upon over the next 12 months. No matter how often you have completed this survey we feel it is important you continue to provide feedback. Your response is important and valued. 
Chun Lee 
Global Head of Client Services