Observability and the monitoring maturity model
In today's increasingly complex hybrid IT environments, you can no longer rely on traditional monitoring to provide true operational resilience. For this you require observability.
There is growing regulatory pressure for financial services firms to prove operational resiliency, showing you can prevent, or adapt quickly to, disruption. In the past, you could rely on traditional monitoring, which identifies known issues and risks. You could use the tried-and-true monitoring maturity model to see where you sat in your monitoring journey - and where you could (or should) go.
Today, this not sufficient. IT environments are too complex, adaptive to workload, and you cannot easily put a monitoring rule on every condition. For resiliency, you must also be able to understand and manage the unknown, to the risks that can occur. For this you need to add a new dimension to the monitoring maturity model - observability.
So, what has changed?
• Regulation
In recent years, widespread system outages and cyber threats - along with the effects of the pandemic - have made operational resilience a top priority for regulators worldwide. Financial services firms must proactively manage disruptive internal and external issues and learn from them to prevent them happening again.
• New technology
Increasingly complex hybrid cloud environments, driven by the recent rush to digital transformation, are more of a challenge to monitor. This makes operational resilience more difficult to achieve.
By adding observability functionalities to the traditional monitoring maturity model, your company will be able to better understand your business and IT environments so you can act now and plan for tomorrow.
Monitoring maturity + observability = operational resilience
For decades, financial services organisations have been using the traditional monitoring in their IT environments, monitoring data, systems and networks, to discover if there are any issues or downtime.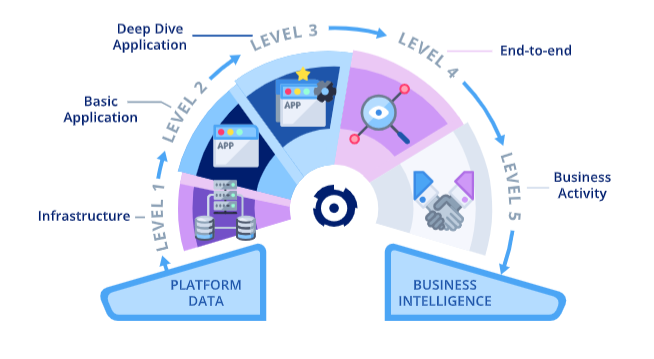 As you can see, traditional monitoring only provides "in-the-moment" information to feed dashboards and alerts. It tends to be domain specific – like infrastructure, applications, or web experience monitoring - which causes silos.
Adding observability capabilities enables you to encompass data from all these sources and more. You can store and analyse time series data for root cause analysis, so that performance issues – across multiple domains - can be avoided in future. Also, it means you can focus on keeping the most urgent internal and customer issues at the top of your agenda.
The benefits are clear
• Improved operational resiliency
Achieve SLAs, SLOs, SLIs to satisfy customers and avoid regulatory fines and penalties. • Reduced downtime and SEV 1 events Realise better mean time to recovery (MTTR) and avoid "severity 1" events that impact customers.
• Preventative monitoring
Use historical time series data to add context to issues, learning from them and stopping them from happening in the future.
• Reduced alert fatigue
Avoid a "sea of red" alerts by using data and context to set better tolerances and parameters.
• Reduced costs
Save time, money and reduce lost business opportunities by managing downtime issues. Take the leap to observability Many organisations have started the journey to observability. Yours may have some transaction-level monitoring and some pockets of time-series data. But do you have a comprehensive approach that aggregates data? Can you understand the impact of IT performance on your transactions or your users' experience?
To add observability to your monitoring maturity model requires an expert. Only by enlisting a trusted and experienced partner with a long history of understanding and solving these business problems can your organisation evolve monitoring to include observability.
Find out why ITRS Group is that partner.
Read our free ebook: How observability benefits the traditional monitoring maturity model, by clicking below.