How to monitor investment bank trade workflow
High stress trading environments at investment banks require real-time monitoring to ensure everything is working as it should be. It is "table stakes" for them and their clients. 
Trading is a big part of any investment bank's business, whether it is proprietary or institutional trading to asset management activities. If any part of the range of IT within a typical trade workflow goes wrong, trades can fail. If a trade is not completed, money can be lost.
Critical technology failures can come from anywhere – market data feeds, trade applications, or IT infrastructure. Knowing what is working – and what is not – at any given moment during the trade workflow can only happen with good monitoring. It makes the difference between investment banks making profits or sailing into risky waters.
Below is a typical investment bank trade flow dashboard, showing the live status of a trade process. It gives visibility into the performance of the apps in the trade stack and how they relate to each other, as well as indications of any issues including how upstream issues affect downstream processes. This example shows good monitoring instrumentation of the apps and the actual trade environment.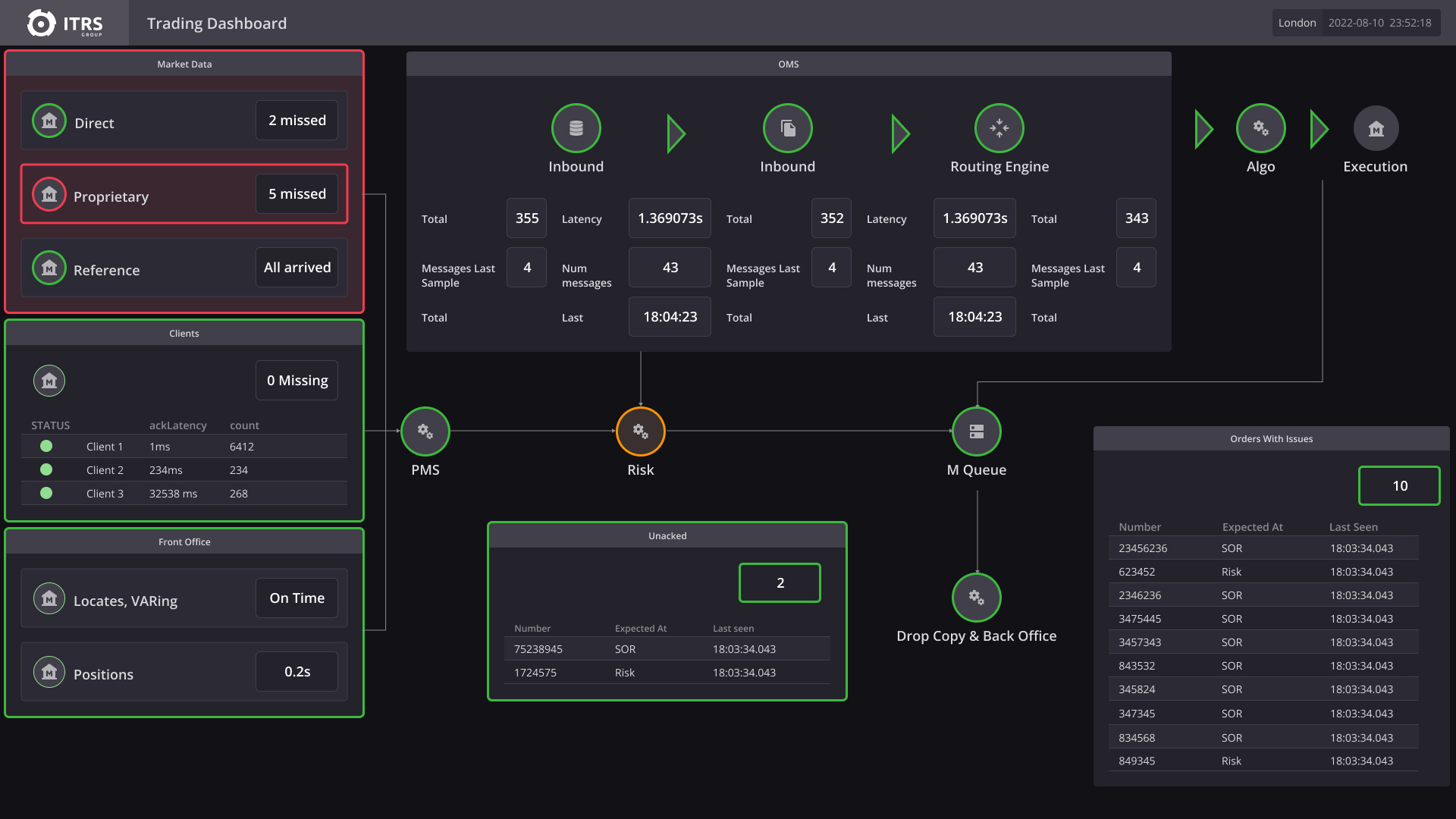 Trade workflow
Only by using such a single-pane-of-glass view of all its data feeds, trading infrastructure, networks, applications, and third-party services can a bank be sure it has the visibility it needs to trade and manage customer requirements.
For this, banks need ITRS Geneos, a single integrated system that achieves a real-time, end-to-end view of trading infrastructure including applications, transaction flows and connections to external services. ITRS Geneos is the only commercial platform with financial-services specific integrations, such as market data and FIX (Financial Information eXchange) protocol monitoring, offered as out-of-the-box capabilities.
Key features:
• ITRS Geneos API and development toolkits fully support the integration of custom applications.
• Understanding of value at risk, should a major market outage occur.
• Proactive alerts provide early warning of impending system issues.
• Automated corrective actions ensure business continuity.
• Customized dashboards provide instant visibility into the entire environment for front-office IT, market data management and business owners.
• Analysis of relative data latency and quality between different market feeds, presents technology managers with a continuous picture of overall market data performance.
For more information about ITRS Geneos, please download the eBook, The Investment Bank guide to monitoring, below.