["Synthetic Monitoring"]
["Solution"]
"0"
"1"
ITRS Uptrends Digital Experience Monitoring
Learn from your users' digital experience while tracking and optimising your web-based resources.
What is digital experience monitoring?
Digital experience monitoring is growing at a 10% compound annual growth rate. By 2023, 60% of digital business initiatives will require IT operations to report on users' digital experiences.
Gartner's Market Guide for Digital Experience Monitoring
Everything you need to stay on top of your users' experience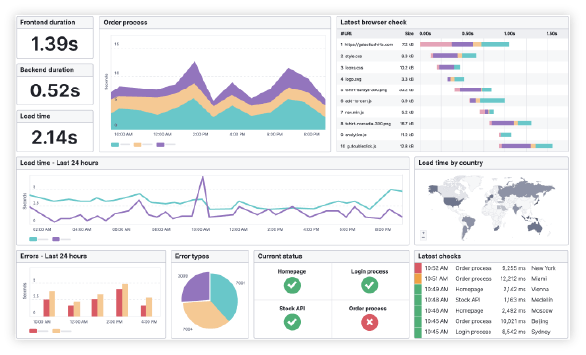 Real-time performance  directly from your users
Synthetic Monitoring safeguards the user's digital experience while Real User Monitoring (RUM) brings digital experience monitoring full circle by tracking the visitor's actual experience while using the site.

RUM's aggregated reporting gives insight into the end user experience based on location, device type, operating system and browser. Spot latency affecting actual users and optimise for the devices and browsers your visitors use most.
What you get from Real User Monitoring (RUM)
See ITRS in action
We understand that navigating IT environments can be complex, and every organization faces unique challenges. That's why we offer customized demos tailored to your specific needs. Book your demo today to experience the power of intelligent, hybrid IT monitoring.